Where To Mountain Bike & Play In Hurricane / Virgin Area
It's funny how I had never heard of Hurricane or Virgin, UT until we left the Toaster at a storage unit in St. George to go to Jackson, WY. Then we found out that the area is jam-packed with outdoor activities: from rock climbing to mountain biking to hiking. I realized that Virgin is approximately 15 miles from Zion National Park and that Red Bull Rampage happens here every year. Red Bull purchased the large swath of land outside Zion where the competition occurs annually. One evening, we packed 17 people into Jennifer and Karl's rig to watch the mountain bike movie, Where the Trail Ends, partially because parts of the movie is filmed in Virgin. The professional downhillers in the film talk about how much they love the trails here.
MOUNTAIN BIKING
We were mostly here for the mountain bike trails. But not the ones featured in the film or on Red Bull's property. Nothing like those trails. But we really enjoyed the trails we rode on. Between the towns of Hurricane and Virgin, there are six mountain bike trail systems. One of which we were camped on for a long time off Sheep Bridge Rd.
Hurricane Cliffs Trail System, a.k.a JEM Trails
This seems to be the most popular trail system in the area, mainly because it's the easiest to get to and the trail difficulty is good for all skill levels. The trails here are smooth (except for the Hurricane Rim trail, which is rocky and the most technical trail of all them), fast, pretty good flow, and some trails have optional jump and drop features (Deadringer). While the trails are overall more buffed out than I like, Jerud likes to remind me that a skill can be practiced on all types of trails, even the easiest ones. On the JEM trails, it's a good place to practice pumping and cornering. The Hurricane Cliff Trail System contains the area's IMBA Epic Ride, which is a 21 – 23 mile route that rides all but about 4 of the trails.
TIPS:
China Town Wash trail sucks. It's a wash that's mainly used by cows.
When we did the IMBA Epic route, we opted to take Deadringer back from Upper JEM trail rather than the JEM trail all the way.
Gooseberry Mesa
Gooseberry Mesa was about 45 minutes to an hour from our boondock site off Sheep Bridge Rd. It takes this long because the dirt roads leading to the trailhead are a mess – rutted, rocky, and painfully slow-going in our truck. There are great views of Zion on the drive to the trailheads and during the ride. Mountain bikers come here for the slickrock riding. Some of the trails here reminded us of riding Upper Porcupine Singletrack (UPS) in Moab with its technical slickrocks right on the edge of a cliff and expansive views of red rocks below. The riding here is a lot of fun.
TIPS:
Not a technical rider but still want to check out Gooseberry Mesa and its views? Park at the White trailhead and take the White trail all the way out to the end. At the end, you can leave your bikes and continue on foot to The Point for the official end of the trail. The White trail has some rocky and sandy sections, but it's an ATV road.
A semi-technical rider? Park at the White trailhead and give the Practice Loop a shot. It'll give you an idea of what the rest of the trails are like, but keep in mind that the blue difficulty rated trails is a little bit harder than the Practice Loop.
If you're an experienced rider that likes tech features and slickrock, try starting at the Windmill trailhead to add a couple extra miles of singletrack to your ride.
Guacamole
Guacamole was our favorite place to ride. The views were stunning and the trail was super fun! It's similar to Gooseberry Mesa except that there's more variety in the trail terrain (but still mainly slickrocks), cool natural features to look at (one of which is a cinder cone), and petrified wood scattered around. The Zion mountains are a lot closer here than they are to Gooseberry Mesa and there are also unique views of the valley below. Plus, the trail names makes you want to finish the ride with a margarita. The downside of Guacamole is that there's only about 12 miles of trail total. The trail technicality is about the same as Gooseberry's blue trails, but the route fnding is a bit harder (look for rock cairns in wire baskets). But it's a lot closer to get to from where we were staying off Sheep Bridge Rd. than to Gooseberry Mesa.
TIPS:
Slow down before you make the first left turn after getting onto Dalton Wash Rd. There are major washboards in the road that will try to toss the end of your vehicle towards the cliff side if you're going too fast.
The last section of road was totally rutted out and ruined by someone who decided to drive on it while it was wet. Four-wheel drive isn't necessary; just take your time.
If you want to do a shorter ride, there is a ~ 7 mile lollipop loop. It's better clockwise.
The longer loop, also best ridden clockwise, includes Holy Guacamole and you get to bike through/past some really cool stuff.
Rhythm and Blues
Super short but tight and twisty trails which were surprisingly a lot of fun to ride. The trails are right across from the wastewater treatment plant tanks on the way to Quail Creek State Park. It totaled to 2.6 miles of trail riding just Rhythm and Blues. There's also the Rock-n-Roll trail that on a map looks like it goes straight down the middle of Rhythm and Blues (3.4 miles). And there's Quail Creek Trail (aka Boy Scout Trail) that's 2.1 miles, on the other side of the lake. But we were in a hurry to get the dogs to the lake so we only rode Rhythm and Blues.
TIPS:
Be comfortable riding tight turns because there are a handful of them.
If you have time, ride Rhythm and Blues twice because I imagine it's more fun the second time around.
OTHER ACTIVITIES AROUND HURRICANE
In addition to mountain biking we also visited Zion National Park numerous times – our hikes and tips can be read here. We also went rock climbing and played in a lake.
Green Valley Gap
Cat and JF invited us to join them rock climbing at Green Valley Gap. We always jump at the opportunity to go climb. Climbing at Green Valley Gap is unique because you're able to drive across the top of the mesa, set the ropes up to top rope, and hike into the bottom of the canyon to climb. Since the hike in is less than 0.5 mile, we decided to bring Tybee. We figured that even if the terrain got too much for her, we could take turns carrying her and she would be able to hang out with everyone. There are over 20 different routes at Green Valley Gap, but we only climbed two routes because we got there later in the day. Jennifer, Karl and their kids were also there so it was a big party happening at the rock ledge we were hanging out at.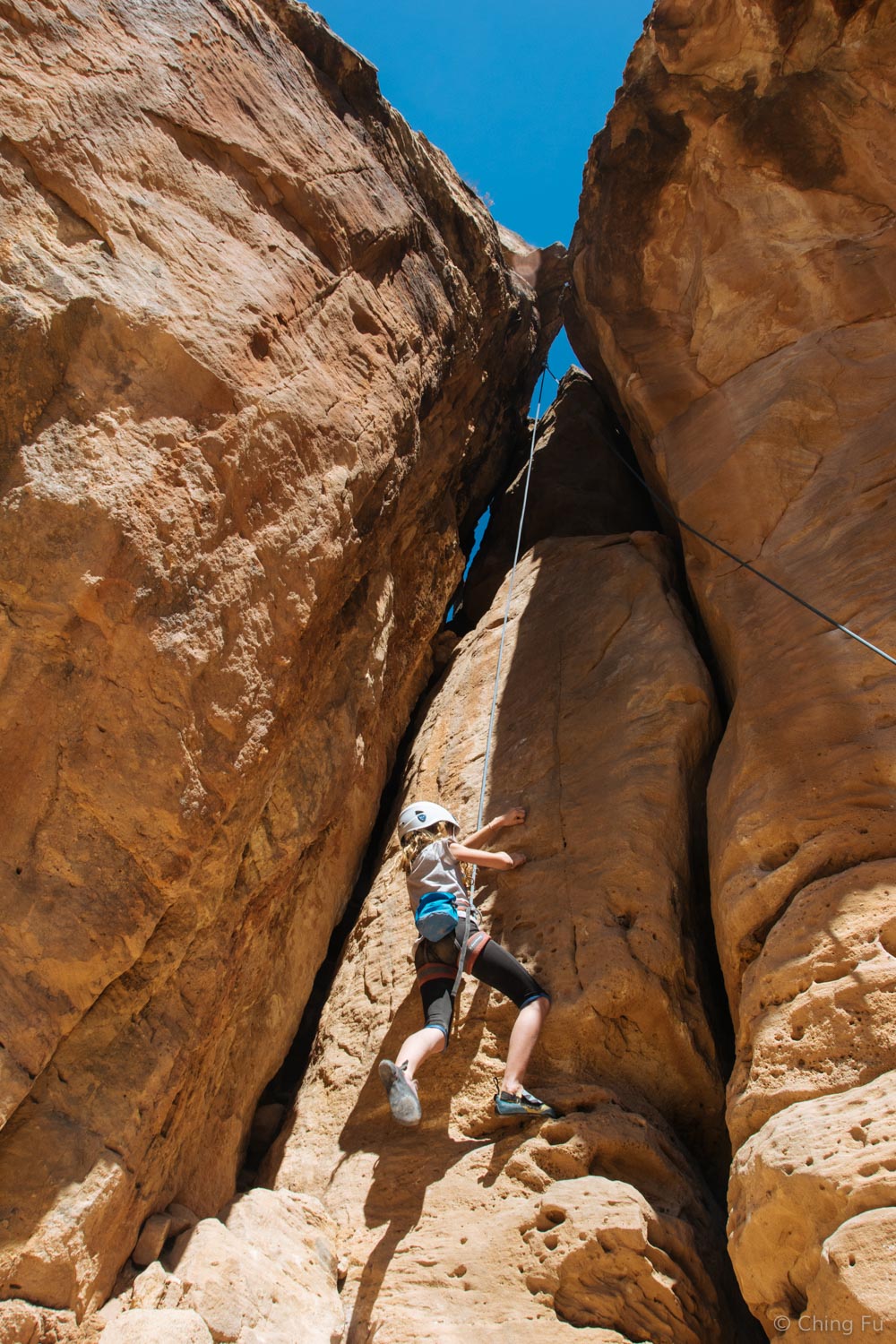 TIP:
Majority of the routes are south facing so it gets HOT. Bring lots of water, sunblock, etc.
Quail Creek State Park
Water in the desert makes these two girls happy!
We went by the lake so Tybee could play in the water. We wish we had gone by the lake sooner so we could have paddled and swam.
TIPS:
There are paid RV campsites in the state park.
Sandy Hollow State Park is the other park with a lake and paid RV campsites. Road It Up stayed here one night – check out photos from their stay.
The area is pretty popular with fishermen, so don't count on too much solitude.
Red Cliffs National Conservation Area
The backdrop of red rocks against the snow-covered mountains is just too surreal. We did a Tybee-length hike here to the creek so she could get her feet wet. On the way to the creek we saw the remnants of the 1954 movie set for They Came to Cordura.
TIP:
Mountain biking is allowed on some of the trails in the park. That's all that we know.
Thank you for making your Amazon purchases through our affiliate link.